In an era of fast-paced DIY/FYI (Do It Yourself- For Your Information) Life Hacks, you never know, when that one technology will hold the sway for you before another one catches up within a span of few days. 3D printing has been that one sly and silent winner that has universally crept into all our dimensions and transformed the way we create altruistic elegance, connect with a far-reaching audience and henceforth lead to the development of novel, cheaper, next to perfect products. You just need to scan the internet and social media platforms to see how 3 D printed designs are reigning the aesthetics at Michelin star rated restaurants and have actually created conceptual dine outs like the Food Ink. Not just the food industry, 3D printed dresses, accessories, and footwear have made quite a noise at Fashion weeks and left people raving at the ramp and beyond. Scientific prototypes, household merchandise, dentistry, medicine, surgery, teaching aids, pills, firearms, automobile parts, space, and now 3 D printed houses.... this list is definitely inexhaustible. Versatility...thy name is 3 D printing!
So when rapid prototyping or 3 D printing was listed as one of the essentials at Atal Tinkering Labs (ATLs), my student team and me, both were pretty excited (that would be an understatement). We took an extensive market survey both through the vendors and the internet for the best possible 3 D printers that we could procure and work on for educative purposes. Of course, amidst all the techno jargon, open frame-closed frame designs, build volumes, extruder options, filament versatility, price quotes etc. we took our own sweet time to order a printer best suited for our lab requirements. We were somehow not very elated with the overpriced, locally assembled printers with limited features being offered by many vendors, so we settled in for a Flashforge Creator Pro dual extruder which can print PLA (Poly Lactic Acid), ABS (Acrylonitrile butadiene styrene), and has a 6.3 mm Aluminium build plate for precise high-quality designs. Post 3-months of incessant printing, 150-designs came into existence, 4- PLA filament spools got exhausted, 500 student trainees got sensitized from our school and neighboring local community, this has been one of the most the catchy and creative aspects of design and tinkering innovation till now.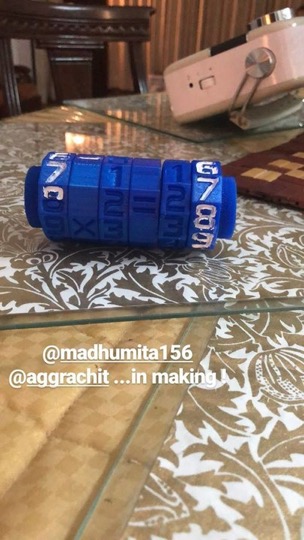 Why is that? Why is the student and teacher response so strong for 3 D printing? Why such a mass appeal? These questions got me thinking and well, a common observation was that why only labs? A layman like me is seriously considering to buy a 3D printer in person to be used at home! In fact, in the early days, we did come across many videos where people are having 3 D Printers work away in garages and the living area too! Now that's some serious tinkering in the personal zone as well, which doesn't require much training and expertise. Anyone, from any walk of life, who wishes to create and customize, can easily fall in love with 3D printing (and the printers of course).
Technology cannot be confined to science and engineering only. When the Egyptians constructed the great Pyramids, or when the Cholas carved the rock temples or Harrappans created the Great Bath and canal systems, their only innovation was design and technique! That's exactly what 3 D Printing replicates today, hence the cosmo appeal is pretty justified. The core idea of the ATLs was to attract innovation from all subject areas because applied science should be inclusive, not exclusive, so none of the students show any inhibition for 3 D printing and many of them belong to humanities and commerce streams as well. So, as a facilitator at ATL I have utilized 3 D printing platform to encourage not just design innovation and creativity but learned a lot along with the students, and actually ended up sharing a lot of 3 D Printed content all over my school in the form of classroom supplies and teaching tools to get things rolling.
We are still learning a lot about steno-lithography aka 3 D printing as each day unfolds, so does a new idea, a new design, a new application, a new creation, and another filament spool as well. The PLA spins away, the vivid student yearnings turn into actually conceived realities. The young minds are now on the track of asking where can they use this technique...a class nine girl one day asked me if she could find a 3D Printer and print gourmet food for her family restaurant? Another one asked if she could print a drone using the printer at the lab? Their questions were all the feedback I needed as a teacher and mentor. ATLs have the power to create a generation of employment generators, technology must transform lives for the better. We must be doing something right.... tinkering has taken a flight of fancy.
Resham Sharma
Atal Tinkering Lab Coordinator, DAV Public School, Lawrence Road, Amritsar, Punjab