Dr. Chintan Vaishnav
Dr. Chintan Vaishnav is a socio-technologist, an engineer trained to design and build large-scale systems that possess both human as well as technological complexities. Presently, he serves as the Mission Director for Atal Innovation Mission (AIM), a flagship initiative of the government of India under the auspices of the NITI Aayog. Chintan is on leave from Massachusetts Institute of Technology (MIT) for his present assignment. As a teacher, innovator, and entrepreneur, he has split his time between teaching and research at MIT and living and working with rural communities in India to build solutions that can overcome constraints fundamental to improving human conditions.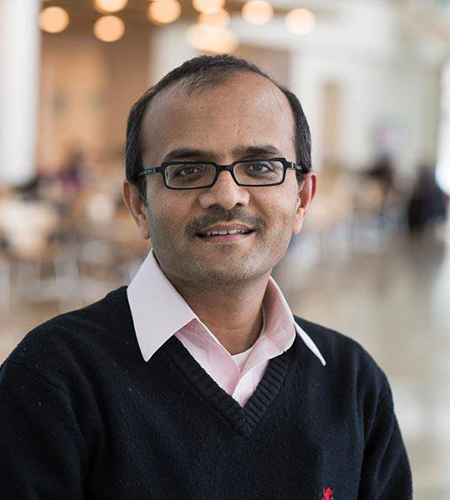 Message from Mission Director
I believe that the purpose of creativity is to improve human conditions. At Atal Innovation Mission (AIM), Niti Aayog, we are building a world class innovation ecosystem for India that converts our nation's immense creative and innovative potential into viable enterprises that can serve our people while competing globally.
Since its inception in 2016, AIM has built infrastructure for innovation via several programs. With a vision to create 1 million young innovators, the Atal Tinkering Laboratories (ATL) program has so far built 8700 maker spaces in schools across the length and breadth of India. These labs, for the first time in India, give the student's mind and hands an equal status in learning. At the level of academic and industry-focused institutions, the Atal Incubation Centers (AIC) program has built 68 world class incubators where innovations can be nurtured into enterprises. Furthermore, for the underserved areas of India, the recently-launched Atal Community Innovation Centers (ACIC) program is building incubators that focus on innovations for meeting the Sustainable Development Goals (SDGs). Finally, for many areas of national importance, we run challenges that connect solutions to problems submitted by ministries, and micro small and medium scale enterprises (MSMEs) via the Atal New India Challenge (ANIC) and Aatmanirbhar Bharat ARISE-ANIC programs. Complementing these programs are our Mentor India Program with 5000+ mentors guiding innovators, and partnership program with 40+ partnerships running targeted programs.
Our nation today stands at an inflection point where the above infrastructure for innovation that we have built must now be interlinked strategically in order to strengthen the ecosystem with the purpose of making the journey from an innovative idea to a viable enterprise more predictable. A stronger innovation ecosystem will exhibit greater breadth, depth, and density than it has. Greater breadth is about more inclusivity, both in terms of the participation of people currently excluded from the innovation economy as well as the attention to problems currently unattended yet important for our nation. Along this dimension, a clear goal for AIM is to open our innovation ecosystem to all languages of India. Greater depth is about taking on solutions that are driven by the advances in more fundamental science and technology. Necessarily, such solutions will also demand greater patient capital. Greater density is about strengthening the ecosystem such that the necessary actors are present and the interdependencies among them are increasingly dependable.
I believe that we are capable of building such a vibrant and comprehensive innovation ecosystem. With our dedicated efforts, as we go on to build it we will see our nation continue to rise in the Global Innovation Index; witness more uniquely Indian ideas become global businesses, and some even enjoy a unicorn status; but most importantly, we will have a culture of innovation and entrepreneurship where a young Indian will have a greater appetite for creating jobs rather than merely seeking one.
Dr. Chintan Vaishnav MD, Atal Innovation Mission