YUVABHARATHI PUBLIC SCHOOL and has won awards for outstanding Academic Excellence, Co-curricular activities, STEM Education, Happiness Quotient Index and the like.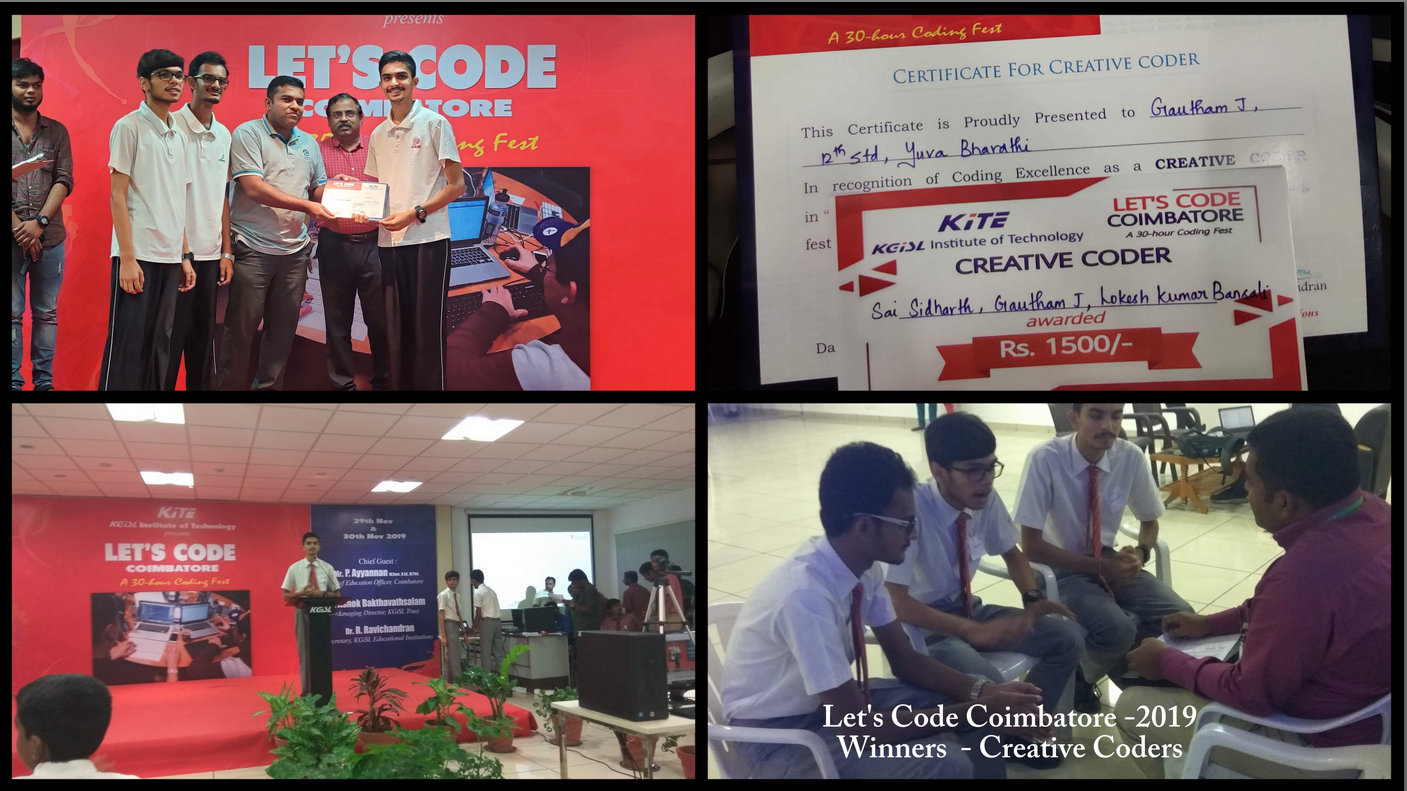 PHASE 1 – 2019 – KGISL Institute of Technology's Coding Competion for Limca Record 'Sahara - An online shopping website' and 'A teacher feedback system' were the projects presented by the two student teams from Yuvabharathi. Sahara is a promising one as it has so many interesting features that can serve the customers while placing their orders. It makes searching the items easy for the customers. Shopping is made easy for the customers because of the most efficient programming. Teachers feedback system is also very user friendly, and the forum option is very useful for the users who enter their comments, and our management also recommended the same to be implemented in schools.
In the 30-hour LIMCA RECORD Coding Fest - Our students learnt to recognise a problem apply creative thinking and problem skills and come up with solutions. They realised how STEM especially CODING could serve to be a problem solver/solution and anyone with the idea can propose a solution, if directed rightly. Our projects 'Sahara - An online shopping website' (done by Maruthupaandiyan, Sabesha, and Rishi Menon from grade 9) and 'A teacher feedback system' (done by Sai Sidarth, Gautam J, and Lokesh Kumar Bhansali from Grade 11) won the titles "CODING CHAMPIONS" and "CREATIVE CODERS" titles respectively with Cash awards. Yuvabharathi Public School was awarded "KINGDOM OF GOD" trophy for coding excellence.
PHASE 2 -2020: KGISL Institute of Technology's Lets code, Coimbatore - 'Coding for a Cause' During the early Covid 19 surge, the competition Lets code, Coimbatore was based on 'coding for a cause' theme. Two teams from our school developed the games named as "Antiviral Protocol" and "Corona Breakout" that employed complex coding. Splendid and thrilling design of the games made it even more interesting as the levels got tougher for the players, as they proceeded further. Both the teams from our school won the titles "Champion Coders" and "Smart Coders" respectively.
Our students realised how online services and gaming could be useful during the pandemic time and quarantine. "Antiviral Protocol" (by Maruthupaandiyan, Sabesha, and Rishi Menon from Grade 10) and "Corona Breakout" by (Gautam J., Sai Sidarth, and Lokesh Kumar Bhansali from Grade 12) won the titles "CODING CHAMPIONS" and "SMART CODERS " titles respectively.
PHASE 3 – 2021: KGISL Institute of Technology's Let's Code Tamil Nadu – State level coding competition Our school's student coding team developed MEDBAY, a hospital management system that helps manage the information related to health care and aids in the job completion of health care providers effectively. It is a web system developed for hospitals to manage their processes, implementing modules for each of the required areas like emergency, outpatient, surgical center, finance, clinical, pharmacy and operations. This intelligent hospital management system integrates all departments to provide seamless operations to both hospital and customers. Processes for Doctors, Admin, Pharmacist, and accounts are all integrated. Information processes are automated to reduce turnaround time and minimize the errors. It also ensures detailed evaluation of information and improves the quality of patient care. UI based hospital management system is secure and safe, will be accessed only by hospital staff members and with mobile compatibility. The team won the title "Coding Champion" award again.
With the pandemic becoming more prominent, the need for remote, more integrated, time saving and efficient systems became more evident. With Coding proved to be one of the problem solvers for the current situation, we levelled up for the state level competition. Our school's coding team (Shabesa K. A., Marudu Paandiyan K. and Rishi Menon of Grade 11) rose to the occasion and developed an integrated system for Hospital Management submitted their project titled MEDBAY and emerged as winners. They bagged the "Coding Champions" trophy and a cash award. It is to be highlighted that this Yuvabharathi team has won the "Coding Champions" trophy for the third time in a row (2019, 2020 and 2021) continuing the winning streak in the domain of coding.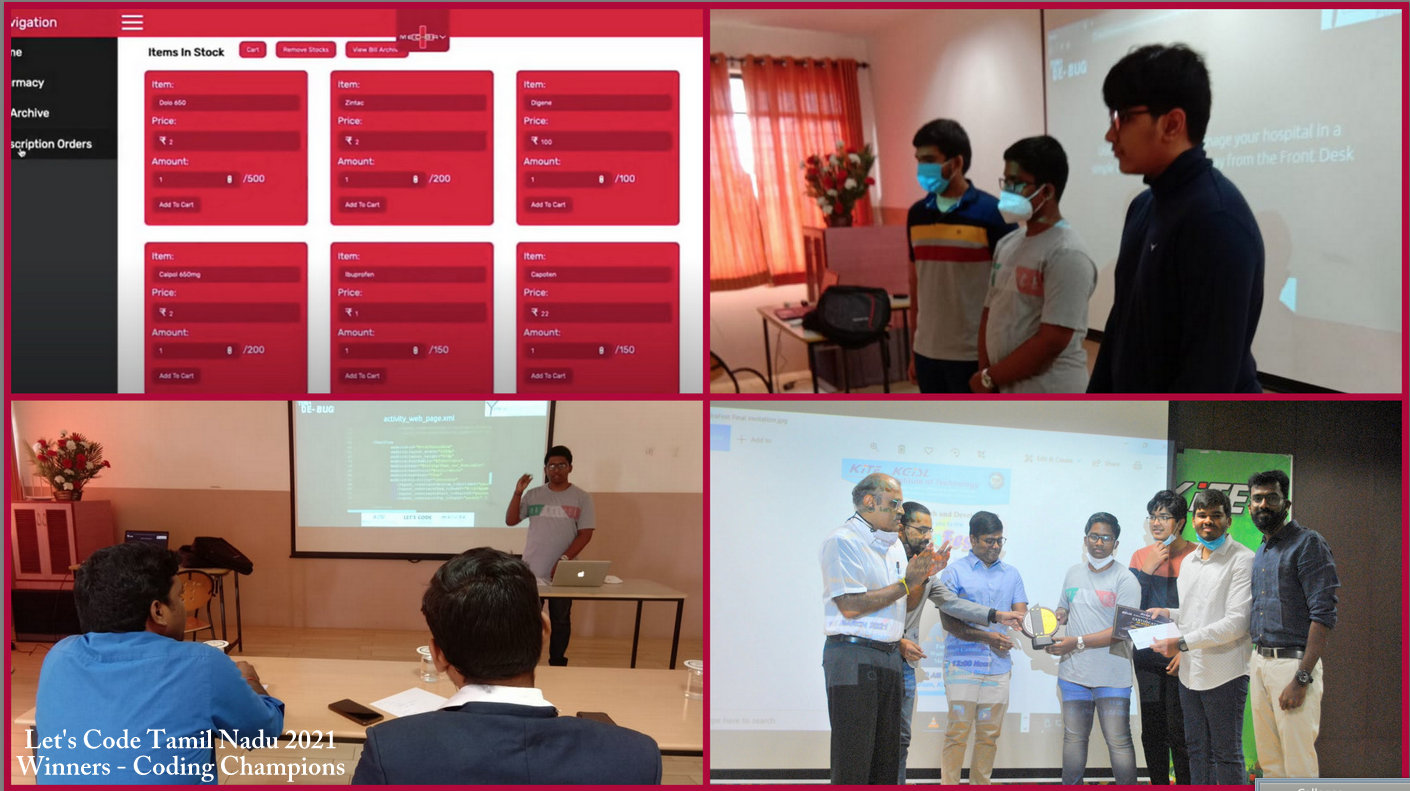 SYuvabharathi Public School
COIMBATORE, TAMIL NADU